The following rock stop are a MUST visit when traveling out of state. If you know of a shop that should be on here
Contact Kendra
Let us help you plan your rockhounding vacation!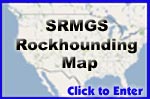 Click the above map for SRMGS member's recommended rock stops

Interactive BLM / Topography Map
Look for the "Download PLSS" link

Recommend your favorite rockhounding location / shop and give a quick 3 line review.